Las Vegas Mobile Massage Therapy
Whether you live, or just visit and play in Las Vegas, you come and stay to be treated to all of the fun, excitement and opportunity only America's Playground offers to everyone. Well, with the magic hands at A Magic Touch, you can increase your satisfaction even more by treating yourself to the pampering and pleasure of a non-sensual massage without having to leave the convenience and comfort of your home, office or hotel suite—with our comprehensive and professional Las Vegas mobile massage therapy services.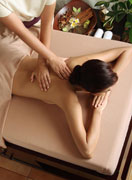 We specialize in out-call, in-home and onsite mobile therapy for residents and guests in and around the Las Vegas area. We have several specific modalities that are far and away asked for more than everything else: Couples Sessions, Event Chair Sessions and On-Site Corporate Chair Sessions. You can find more information about these, as well as all of the other modalities our therapists specialize in, by clicking on the descriptions below—and also by visiting our Event Chair, Corporate Chair, and In-Home Service Pages.
All you have to do is call us, and we will send our highly trained, vetted, professional and courteous therapists to your door in as little as three hours time, 7 days a week. We provide the equipment, ambience and of course the magic touch…thereby providing you with personalized and luxurious resort-level therapy services.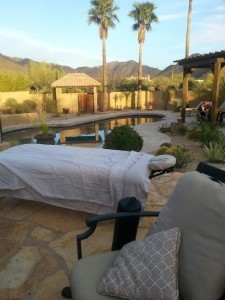 Then you just have to relax and allow us to work our magic, while you bask in the luxurious glow of pampered, pleasured bliss. Our expert therapists are highly skilled and experienced in all of the major non-sensual modalities. We have listed some of these below, in order to help educate you about the modality which best suits your wants and needs. If you do not see a non-sensual modality listed that you would like to have performed, please contact us, as this is only a partial list of our more popular and well-known offerings.
We offer professional in-home, onsite and outcall non-sensual therapy sessions in durations of 60, 90, and 120 minutes. There is no need for you to fret over travel time, endure the countless traffic-induced headaches, or experience any other stressor associated with navigating your way to and from a storefront or salon. Rather, allow us to come to you, serve your therapy needs, and then leave you in a state of total peace, bliss, relaxation and rehabilitation from head to toe. Please feel free to contact us, in order to discuss the best mobile massage therapy option to suite your needs.
Swedish Massage
The Swedish Massage is the most popular and well known technique in the Western world. It is delivered via light to medium pressure, and the practitioner utilizes lunging and kneading strokes in the direction of blood returning to the heart in order to elicit maximum relaxation. However, its benefits also include the increase of oxygen molecules in the blood stream, the decrease of toxin levels in muscle tissue, as well as an increase in circulation. Furthermore, a study conducted by the National Center for Complementary and Alternative Medicine, and published in The New York Times showed a positive correlation between this technique and decreased cortisol levels, while also increasing white blood cell count and therefore, immunity response. This massage will help you feel relaxed while actually making you healthier too, and all at the same time…how great is that?
Deep Tissue Massage
The deep tissue technique is similar to the Swedish technique, but this technique specifically uses trigger points and deep pressure kneading in order to penetrate the deepest muscle tissues, tendons and fascia. The result is relief from chronic and recurring injury pain, as well as muscle soreness. A 2010 meta-analysis in the Journal of Clinical Psychiatry found that deep tissue techniques reduce stress levels and heart rate, while boosting serotonin levels and thus, result in increased mood and relaxation levels. If you have deep-seated muscle soreness, the deep tissue technique is definitely for you!
Golfer's, Marathon Runner's, and General Sports Massage
Golfer's massage is a technique employing light to deep pressure with stretching designed to focus on the areas of the body most affected by golfing.  This technique promotes increased flexibility, shortened recovery time, enhanced endurance and even injury prevention. It can also be applied to any sport to help aid in post workout/training recovery of muscles, tendons and joints. A study conducted by Margaret Jones, Ph.D. of the American College of Sports Medicine, showed a positive correlation between muscle recovery and massage when performed both before and after exercise. It is especially effective for marathon runners both before and after the many Phoenix marathon events.
Chair Massage
The chair massage takes place leaning forward while seated in a specialized, open back chair. It utilizes either the Swedish or deep tissue massage technique. Clients remain fully clothed, making this a great way to relax in an office or professional environment, as well as comfortable for those who do not feel like partially or fully disrobing in order to receive therapy. Each chair massage session is usually 10-20 minutes long, which also makes it ideal for an office setting, and it can be a great way to treat your employees or coworkers to a little bit of relaxation and rehabilitation in between all of the daily hustle and bustle. A minimum block of two hours worth of scheduling is required for chair sessions.
Couples Massage
The couples massage is an amazing way to share the relaxation and rehabilitation experience with a friend or loved one. We will schedule two mobile massage therapists for you, and they will provide you and your partner with simultaneous massage sessions. Each person can choose the type of massage best suited to their needs and liking. The couples massage session can both relaxing, romantic, and a truly non-sensual experience you and your love one can share with each other. Why spend the time and effort to go out, when you and your loved one can be pampered in the lap of luxury from the comfort and privacy of your home or hotel suite?
Pregnancy Massage
Pregnancy, or prenatal massage is both essential and moreover, a perfect treat for the mother to be! Massage during pregnancy includes therapeutic bodywork that focuses on the special needs of the mother-to-be, as her body goes through the dramatic changes of the childbirth experience. The prenatal technique enhances the function of muscles and joints, improves circulation and general body tone, relieves mental and physical fatigue, and even helps facilitate more restful and consistent sleeping periods and patterns. It also reduces symptoms commonly associated with pregnancy—including backaches, stiff necks, leg cramps, edema, and headaches. Pregnancy massage is a fast-growing modality in the United States that has attracted the interest of labor and delivery nurses, nurse-midwives, childbirth educators and obstetricians.
Massage Care for the Elderly, Disabled and Homebound
Massage is an important part of overall healthcare, and our mobile massage therapists are available for appointments at hospitals, nursing homes, assisted living facilities, and hospices for those who are not able to travel. All of our mobile spa treatments are available to help lift the spirits, heal the bodies, and ease the minds of those who are not able to, or are not comfortable with, traveling to a clinic or storefront location. Our professional on-call therapists, estheticians, and nail technicians are trained, licensed, and insured to work with all clientele regardless of age or physical ability. This includes providing therapy focusing on light touch and functional stretching to increase blood flow, combat muscle waste and even psychological challenges including depression. Give the gift of relaxation and increased longevity to yourself, as well as your elderly or  infirmed loved ones.
We also offer comprehensive spa treatment services courtesy of our highly experienced, licensed and insured nail technicians and estheticians—including facials,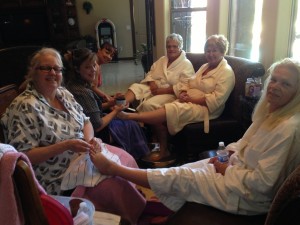 manicures and pedicures, as well as makeovers. However, facials, nails and hair services can only be performed on clients at their residence, hospital or nursing facility, if an illness or other physical or mental incapacitation prohibits them from attending a salon or authorized storefront location. If this is the case, then we can and will perform these services…but for insurance and other legal reasons proof of circumstance and need for accommodation may be required. Please contact us if you would like to discuss these services in more detail.
Please Note: The one modality we will not discuss, quote or perform in ANY WAY and for ANY REASON is a sensual massage—so please do not even ask. Any and all inappropriate or illegal inquiries are immediately routed to the local, state and/or federal authorities, and we will do our best to help prosecute the offender to the fullest. We hope this is clear.
Please contact us with any questions you might have, as well as to schedule your therapeutic session, at 702-981-0815. We look forward to providing you with excellent customer service, as well as professional proficiency that will leave you relaxed, rehabilitated, and of course putty in our therapists' magic hands!