Las Vegas Event Chair Massage
The are literally thousands of events and trade shows held annually in Las Vegas. These gatherings usher millions of attendees through the doors of convention centers and event halls throughout the city. All told, this amounts to billions of dollars in revenue for Las Vegas annually—which significantly benefits both citizens, as well as the many businesses in and around the Las Vegas area economically speaking. If you are participating in a trade show, as well as any other corporate or social event anywhere in the Las Vegas area, you want to make sure you set up your booth or display so your product or service stands head and shoulders above the other competitive offerings out there. And when the time comes to plan an exhibit that will set you apart from the convention center crowd, A Magic Touch can help make the event, and therefore your business, memorable and prosperous in every way!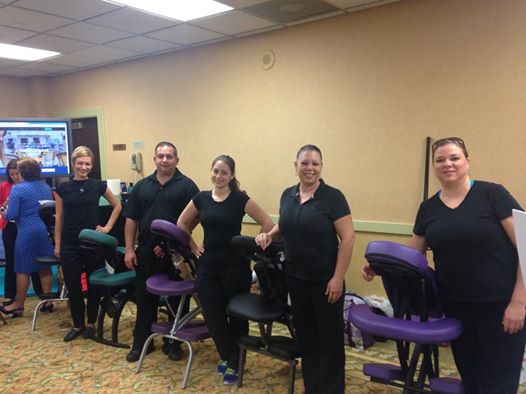 A Magic Touch loves to help businesses, organizations, and also event organizers facilitate fun, relaxing and rehabilitating, pampering experiences only professional and proficient therapists can provide. Our comprehensive staff of highly trained, licensed and insured therapists will help serve the attendees of many different kinds of gatherings—including trade shows, conventions, conferences, corporate events, sporting events, grand openings, national marketing tours, health fairs, retreats, weddings and even pool parties. Because we have many able bodied therapists on staff, we can accommodate events of any size and attendance level.
What Is Event Chair Massage?
Event chair massage is also known as seated or corporate chair massage. It is perfect for public gatherings because the chairs are portable, sturdy, easily cleanable and maintenanced, and require much less space than tables. Additionally, chairs are appropriate for these kind of venues because people do not remove articles of clothing such as shirts and pants during these sessions. Since the sessions are usually 10-30 minutes in duration, many different attendees can experience our magic hands difference within a relatively short span of time.
Event chair booths will draw potential customers in for more discussion, help with sales lead generation, and of course emit a positive spin to the marketing of your company's products. Tradeshow booths featuring our therapists are usually some of the busiest and many times, revisited of any booth at every event. Our expert mobile therapy services are also a great way to make your product or booth stand out from the sea of choices. After all, both current and prospective clients absolutely love to be pampered and appreciated…so do both and more by giving them our magic hands!
Show Your Client Appreciation
Your customers and clients are the backbone of your business, there is no disputing that fact. Without their loyalty—not to mention the positive word of mouth advertising and other professional benefits that come with providing the excellent customer service and attention to detail that sets you apart from the competition, your business would not thrive.
Event chair services are a fabulous way to show appreciation for existing and new customers and clients—especially when we help you arrange a corporate party, or a VIP room with either chair and/or table therapy services offered. If you own a storefront goods or service-based business of any kind,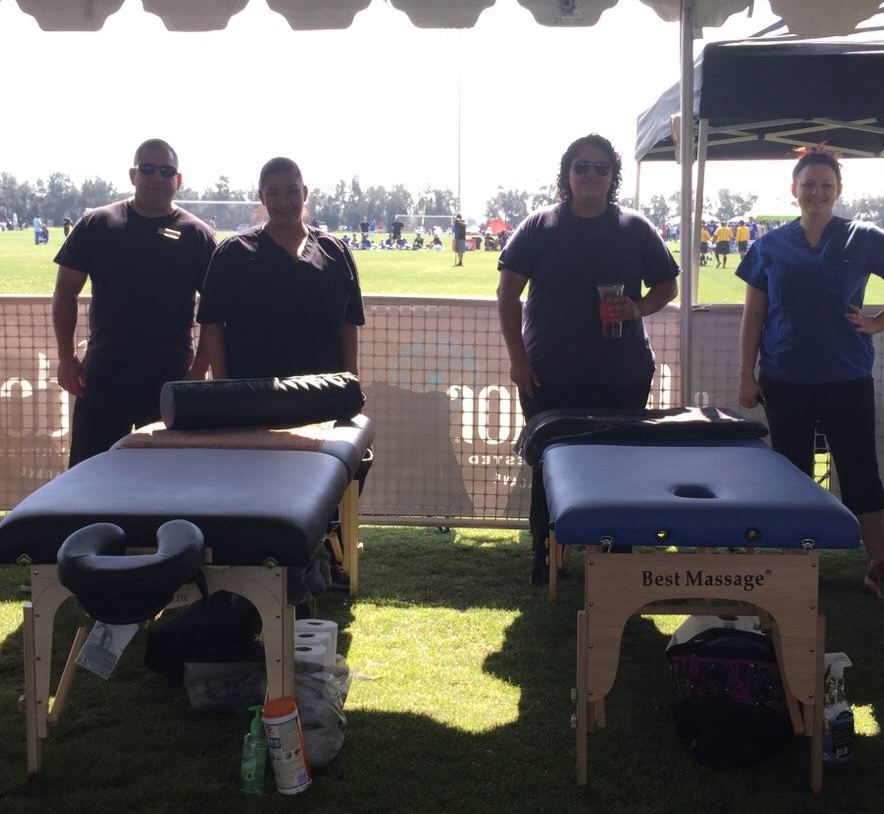 an event chair massage session can be an excellent way to thank returning customers, as well as draw many potential customers into your business space. The possibilities and venues are endless, and we love to help your business succeed by doing what it is that we do best!
Allow our licensed, insured, highly experienced, professional and courteous staff to make your next event memorable. If you reside in or around the Las Vegas, Nevada area, we can schedule your event chair massage service with a minimum of one hour booking commitment per therapist. These services can sometimes be scheduled the same day, but the more notice you provide us with the better. We require a one hour non-refundable deposit at the time of booking for all event chair massage services Please do not hesitate to contact us for more information about our event services, to schedule services, or with any other inquiries you might have.